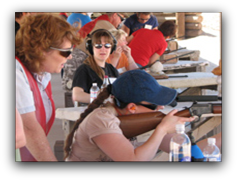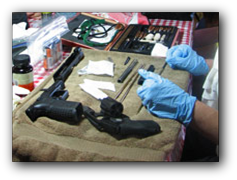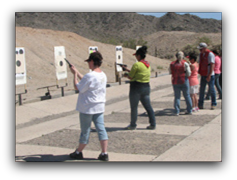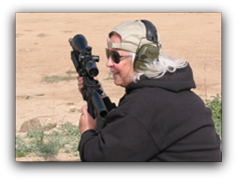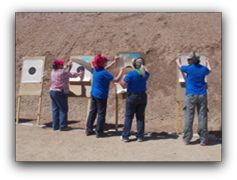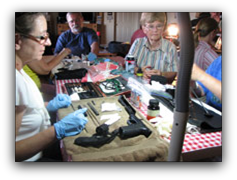 Pistol & Rifle Shooting Practice (See Shooting Schedule)
AWSA has several pistol and rifle shooting clinics and practices where we work on different drills and scenarios to develop shooting skills, build confidence and muscle memory.
___________________________

Gun Cleaning Class
AWSA understands it is important to make sure your firearms are clean, maintained and safe to use. We have an annual gun cleaning class and picnic in early summer to make sure all ladies understand the process for cleaning and maintaining their firearms.

Washington Birthday Match & Clinic
The Arizona State Rifle and Pistol Association sponsors the Washington Birthday Match & Clinic. The AWSA ladies rifle team participates in the annual event. The tentative schedule for 2020 is February 16. We are always looking for ladies that would like to be part of a team. The match is shot from 200 yards and is very beginner friendly. We have plenty of practice times available to help prepare for the match.

Winchester/NRA Marksmanship Qualification
The Winchester/NRA Marksmanship Qualification Program is a self-paced skill development program. There are different programs for pistol, rifle, shotgun, air pistol & rifle, and muzzle loading. AWSA works on the pistol and rifle programs and all participants will earn a patch at the beginning and at each skill level a rocker and a certificate for the level completed.

Arizona Game & Fish Department Outdoor Expo
Arizona Women's Shooting Associates will have a booth at the Arizona Game and Fish Outdoor Expo on March 28 & 29, 2020 at Ben Avery Shooting Facility. We encourage all members to help with the booth to support and promote AWSA and enjoy the Expo. The Expo has more than 150 exhibitors, outdoor recreation, fishing, archery, shooting sports, conservation groups, government agencies, and commercial vendors. They will also have mounted shooting competitions, OHV & ATV exhibits, RV & Boat sales and kayaking at "Lake Paddlemore."

ASRPA Annual Roundup Dinner
The Arizona State Rifle and Pistol Association (ASRPA) hosts an Annual Roundup Dinner During the day are several ASRPA Firearm courses, and educational workshops. Followed by dinner with special speakers, a raffle and great food. ASRPA is the Official State Organization of the NRA. ASRPA encourages everyone to bring the family out for all the fun. Will update with location and date for 2020 when scheduled.